Take your home comfort system to the next level
Complement your system with our suite of technologically advanced accessories to more precisely and efficiently maintain the temperature and air quality in your home
Select your Lennox Smart Product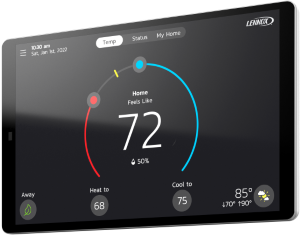 Welcome to Your Home Comfort Command Center
Unlike most smart thermostats, the Lennox S40 Smart Thermostat is more than a temperature regulator. It's the command center for your entire system, with the incredible ability to monitor sensors throughout your home and in all your equipment. From detecting air pollutants and customizing comfort by room to providing maintenance and service reminders, it will even automatically alert you if your system goes out of tune and allow you to remotely share diagnostics with your local Lennox dealer. The Lennox S40 Smart Thermostat not only provides the most precise and perfect air, it also gives peace of mind.

Smart Products +

Partnered for your convenience
Control4 is a leading control and automation platform which works with thousands of smart devices integrating audio, video, lighting, security, intercom, and of course climate control into a seamless customer experience. Control4 gives you an easy-to-use interface to control your thermostat.


Smart Products +

Partnered for your convenience
Amazon Echo/Dot is hands free and voice controlled. The Amazon Alexa voice service running on the Echo/Dot puts you in command of your home through voice controls that can be used with individual thermostats or groups. It can be used with Amazon Alexa compliant smart home devices.
Feels Like
The temperature on the thermometer isn't always the temperature you feel. For example, an outside temperature of 85 degrees, plus a humidity level of 75% means the temperature outside "feels like" 95 degrees.

The Lennox S40's Feels Like functions the same way. It can control temperature levels with extreme precision. Simply set the Feels Like Temperature you want, and it does the rest.
Smart Away
The Lennox S40's Smart Away mode works with an app on your family's smart phones, to detect when the house is empty and automatically changes the temperature to a more energy-efficient setting.

And it detects when a family member is on the way home to return the temperature to its regular setting. So even if your schedule isn't consistent, your energy savings are.
Advanced Diagnostics & Remote Sharing
Keep your system at peak performance. Protect your investment and peace of mind with active monitoring of system operations through your Lennox S40 Smart Thermostat. This feature is free of charge and provides basic maintenance reminders, alerts you of potential issues, and can even allow you to remotely share diagnostics with your local Lennox dealer to troubleshoot and fix problems. This proactive care helps eliminate downtime and avoid unnecessary service visits and repair costs, ensuring nothing short of perfect air.
Locate a Dealer

Find a Lennox Dealer in your area who can take care of your home comfort needs, or view a list of all Lennox Dealers.

Download our Apps

Adjust your home's temperature anytime, anywhere from your mobile device with the Lennox Smart Thermostat mobile app!